Let's Talk About Your Boudoir Photography Session!
These sessions are fun, light and a special time for you to feel beautiful in your skin.
There is nothing more important than self-love and confidence; I believe that these attributes shine through and make us happier women, moms & partners.
Whether you are looking for Boudoir portraits just for you, or you're looking for a gorgeous, intimate gift for your partner, I will help you achieve it.
Keep reading and I'll tell you everything you need to know about hiring me and what to expect from a Boudoir session.
Let's Get The Ball Rolling...
We have been using Shanna as our family photographer for the last 5 years and she never disappoints! Her photos are beautiful, she has very creative ideas and always makes it work! She's responsive, very professional and so great with the kids! It's a wonderful experience and you will not be disappointed. We are looking forward to our future family photo sessions with Shanna for years to come 🙂
What Exactly Is Boudoir Photography?
That's a great question, as most people probably aren't exactly sure what it is (or isn't).
In a nutshell, Boudoir photography is a particular style of photography that primarily focuses on intimate, sensual & romantic images of its subjects.
The photos are intended more for the private enjoyment of the models (and their partners) and Boudoir photos are more suggestive in nature and are not seen as being sexually explicit.
Where Do The Boudoir Sessions Take Place?
All Boudoir sessions take place in my private studio.
We utilize my luxurious, white studio bedroom, as well as my antique chaise complimented by moody, sexy lighting that flatters all shapes & sizes!
When Do Boudoir Sessions Take Place?
The majority of Boudoir sessions take place with a morning start time, either during the week or on the weekend. Whichever works best for you!
We'll pump-up your favorite music & I'll make it a fun, easy going time – trust me!
Get in touch with me and we can talk about it.
How Long Are The Sessions? How Long Should I Plan On Being At Your Studio?
Depending on the package you choose, my Boudoir photography sessions are scheduled in 1.5, 2 and 3 hour blocks.
You can view the different Boudoir Photography Packages & Pricing on my pricing page.
What If I'm nervous Or Lacking Confidence? Is Boudoir Photography For Me?
It absolutely IS!
My clients are often nervous coming to their Boudoir session, and who wouldn't be, really?! I mean, how often do you get down to your undies in front of a camera?!
But honestly, the way my clients leave my studio, like they are on CLOUD 9 after their Boudoir session is the best feeling ever.
I find the Boudoir experience to be both hugely empowering and confidence boosting and I will make you feel as beautiful as I see you through my lens – because you ARE beautiful!
Boudoir photography will show you that like nothing else!
A recent client nearly ruined her makeup with tears of joy when I showed her the back of my camera mid-shoot – she couldn't believe she looked that amazing!
Opt for a session that includes hair & makeup (LASHES INCLUDED!) and it will be a truly pampering experience.
When Should I Book My Boudoir Session?
That's totally up to you, of course, but my times for other shoots (like Maternity & Newborns) fill up fast and you might want to reach out to me sooner rather than later.
You can use the form provided on this page to get in touch or you can use my contact page to send me a form message with your interest.
I'll get back to you ASAP with dates and times and we can work something out together.
Simple!
How Much Do Your Boudoir Photography Sessions Cost?
My Boudoir Photography pricing starts at $675.00 (+ HST).
Please visit my Boudoir Photography Pricing & Packages page for all of the options and details of what can be included in your Boudoir session.
OK, I'd Like To Hire You! What Do I Do Now?
That's great!
Getting started is ultra-simple, and all you need to do right now is reach out and send me a
quick and simple form message
.
Once I receive your message, I'll get in touch with you ASAP and we'll discuss what you'd like to get out of the session, any reservations you may have about it, and I'll give you my available dates and times. You can then choose what works best for you and I'll also answer other questions you might have.
When your date arrives, we'll get together for your photo session.
Once the session is completed, I'll help you select the photos you want to keep, along with the various framing and presentation options I offer.
You'll get the amazing Boudoir portrait photography you wanted and I'll get another extremely satisfied client!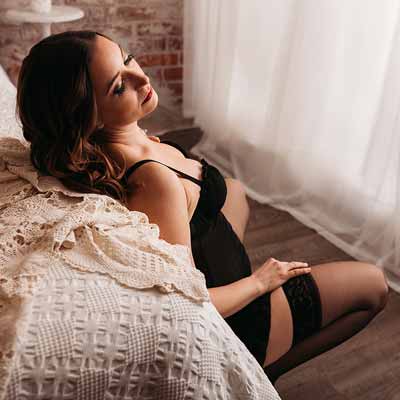 We have been working with Shanna for several years. From Maternity to newborn, family photos to headshots for business. She's done it all for us! She's so personable, puts you at ease and gives clear directions during the shoot. The finished product always surpasses our expectations! You can tell she loves what she does and it shows through her work!
– Jacklyn De Ciccio
Boudoir Photography Portfolio
kids only
Reserve Your Spot For Our Valentine's Photoshoots
kids only
BE SURE TO BOOK EARLY!